Timothy was born in Farmington Michigan on October 9, 1991. His parents raised him in the Detroit 7-Mile area until he was about 5 years old and then they decided to move the family to Houston Texas to have a better life. During this time Timothy started to write music even though he was 7 years old. For years Timothy spent most of his time writing music when he was out of school playing artist like DTP, Usher, After Math, B2k, Hot Boys, UGK, and so many other artist around the time.
When Timothy was about to go the the 7th grade his family moved to Norcross, Ga because his father had a better job. This is where Timothy jumped more into the music because all of his friends where into it like Sonny Digital and Que and many other young men trying to find their way through life. After his parents split when Timothy was in the 9th grade he bounce between Houston, Georgia and Mississippi where he landed in the 11th grade and stayed there until he graduated in 2009. Even though Timothy was still writing music and recording on his mothers laptop through all of this he went to school to be a personal trainer at Hinds community college. After a few months another split between his parents moved him back to Georgia again with his mother where he was forced to figure out life once again. After about six months Timothy moved to Boston where his father was working at the time and he received a job at the cab company that his father was working for. During this time Timothy saved up some money to book his fist few hours in Cyber Sound studios where he recorded "Getting to the Money" a song that would change his life forever. After posting his new song on tweetmysong.com he was noticed under the rap name 'Deuce
' for his talent and at that point he was introduced to a group of people including producers, Anrs, Djs and more that could help him get his career off the ground. For years after Westbrook tried to make tapes do freestyles and shows to build his fans and in 2013 when he enrolled at Full Sail University where he put out his first official mixtape "Acid Trip" through coast2coastmixtapes.com and at that point he received a number of awards like top 50 independent artist twice and a number mixtape slots. in 2014 Timothy Westbrook II drop his first album Everybody Smokes Trees which was the first project he made to hit iTunes and other large platforms. It was around that time where he put out a single called "Bricks" and that took his soundcloud to the next level reaching thousands of plays every month but in 2015 Westbrook put out a song call "Famous" that jumped to 300,000 plays in just the first few months of it being out. With his new project 23 out songs like "Famous" , "When your trap gone" and "Uncle's Dreams" have jumped Timothy Westbrook II on the radar for Hip hop lovers and music lovers all over the world.​
Powered by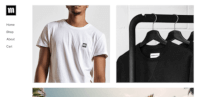 Create your own unique website with customizable templates.